18 May 2017
2nd HAEE International Conference: The landscape in the new era of energy transition: Challenges, investment opportunities and technological innovations | International Event
Metropolitan Hotel Athens
18-20/05/2017
The City of Athens
Athens is the capital and the largest city of Greece. It is one of the world's oldest cities, with its recorded history spanning over 3,400 years, a center for the arts and philosophy and the birthplace of democracy.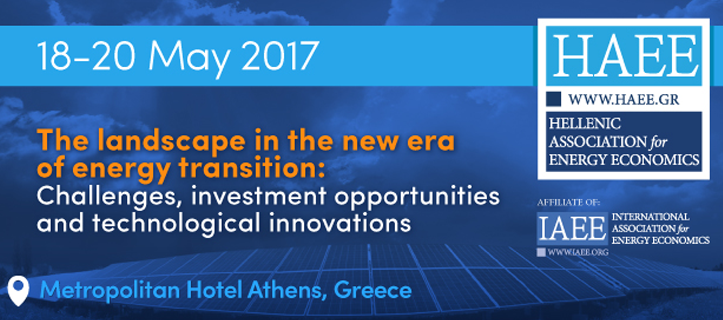 Athens is a tourist's delight with famous landmarks and hidden treasures waiting to be discovered. Its position at the crossroads of three continents has been a significant factor in the development of the city's extraordinary cultural heritage. Greece's capital is an ideal congress destination, combining state-of-the art infrastructure, excellent conference facilities and easy worldwide access with unrivaled cultural attractions, modern amenities, diverse entertainment and natural beauty.
Accessibility
Athens is connected to the International Airport, 35 km from the city center, via public transport that includes metro, suburban rail and various bus services.
Metro
Metro line 3 (blue line) runs from Athens airport to Syntagma Square in the city center.

Estimated cost: 10€
Suburban Rail 
Athens International Airport is connected via suburban rail with Athens Central Railway Station (Larissis Station), Port of Pireaus and Kiato.
Estimated cost: 8-14€ (The cost depends on the pick-up station) 
Bus Express Airport
Bus connections with the Athens City Center on a 24-hour basis, X95 (to Athens downtown "Syntagma").
Estimated cost: 6€ 
Taxis
The taxi stand extends from Exit 4 to Exit 1 at the Arrivals Level of the Airport.

Estimated cost: 40€
Transportation
Metro
The Athens Metro has 3 lines. It connects important landmarks of the Greek capital, such as the Acropolis, Athens Airport, Port of Piraeus, Central Railway Station and Olympic Stadium, in addition to connecting downtown Athens with the suburbs.
Line 1 (green line): Kifisia – Piraeus
Line 2 (red line): Anthoupoli – Eliniko
Line 3 (blue line): Airport – Douk. Plakentias – Agia Marina

For more information about timetables visit http://www.stasy.gr/?id=67
Tram
The Athens Tram connects the city center with the southern seaside.
There are 3 lines:
Line 1 :"Syntagma – SEF" connecting Athens city center to the Peace & Friendship Stadium
Line 2: "Syntagma – Voula" connecting Athens city center to the southern suburb of Voula 
Line 3: "Voula – SEF" running along the coastal zone 

For more information about timetables visit http://www.stasy.gr/?id=67

Buses and trolleys

City buses and electrical trolley-buses serve Athens and its suburbs. Operating hours vary according to line/ day /season, but generally they operate between 5:00 a.m. – midnight. There are also five 24-hour lines, 4 airport lines (see above section), and 8 Express lines.
You can find routes, maps and real time bus movement information on http://telematics.oasa.gr/#main
Suburban Railway - Proastiakos
The Suburban Railway is part of the national railway network of Greece. Its main route is Athens Airport – Kiato.

More information on http://www.trainose.gr/en/
Taxis
Taxis (yellow in Athens) can be a more convenient -although more expensive- mean of transportation. 

For your convenience Taxibeat and Uber applications are available.